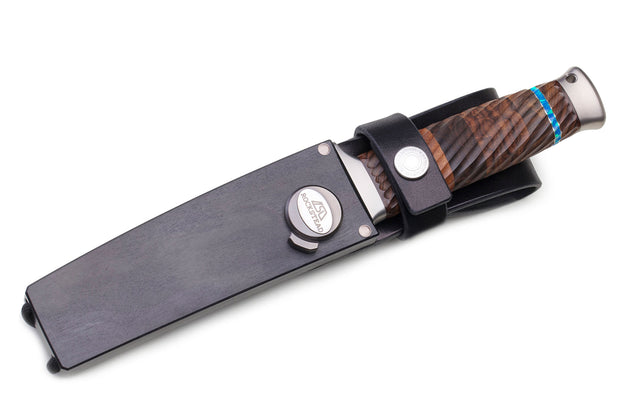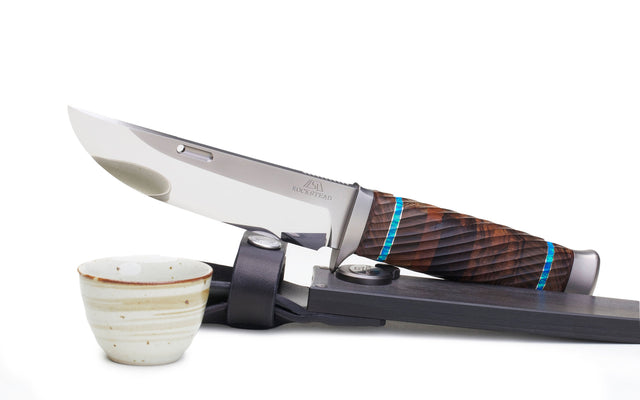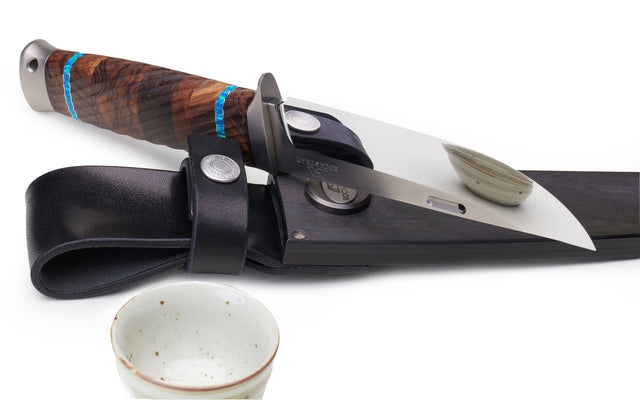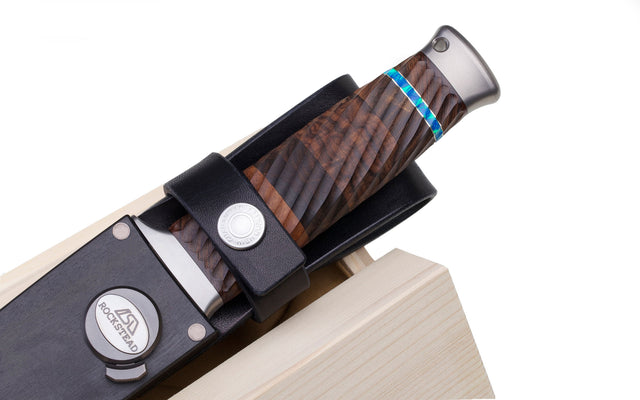 shipping costs / delivery time / availability
The shipping costs as well as the delivery time of available products will be communicated to you at checkout depending on your delivery location (country). See also the information on our "Shipping costs and delivery" page.
If "sold out" products are listed in the category "Announced", they will be available again in our shop within 3 to 6 weeks.
You can enquire about the availability of all other products marked "sold out" with us. Please feel free to contact us via the contact form or by phone.
Description
Besides the ROCKSTEAD UN and the ROCKSTEAD KON, the DON is the third large ROCKSTEAD fixed blade knife. As with all large fix knives, the blade is made of ZDP-189 laminated with VG-10. The intricately designed handle consists of ten ironwood rings interrupted by two rings of artificial opal. These in turn are framed by narrow silver rings and further enhance the look of the handle. The end cap of the RFOCKSTEAD DON is made of titanium. The sheath of the DON has a friction-based "lock system" and is made of wood micarta.

Specification
Total length: 257mm
Weight: 245g
Blade geometry: HONZUKURI
Blade length: 134mm
Blade steel: ZDP-189, hardness approx. 67 HRC
Blade thickness: 5,2 mm
Hand guard: SUS440C
End cap: Titanium
Handle: Ironwood, artificial opal, silver. The handle can be dismantled.
Sheath Material: Wood Micarta & Leather - with friction based "lock system".
Dimensions: 238x48x24
Weight: 138g
Note: Ironwood is a natural material, therefore the hue and grain of the ironwood handle scales are unique to each specimen and will vary from the model shown.

Scope of delivery: Cherry wood box, knife sheath, specification sheet, warranty declaration